Sporades - Kyra Panagia
Location: northeast of Alonissos
Area: 25 km²
Highest peak: 299 m.
With an area of 25 km², Kyra Panagia is the largest deserted island, north of Alonnisos. Its hills range between 169 and 299 meters. In ancient times, the island was known as Ephthyros and as Polyaigos. This days, Kyra Panagia belongs to the Megisti Lavra Monastery of Mount Athos, but , administrately, the island is part of the municipality of Alonnisos.
The bay of Planitis in the northeast is one of the largest natural harbours in the Mediterranean. Its opening is about 80 meters wide and then split into a west and a south section of just a few hundred meters wide each.

Arriving at Planitis you may wonder how, with such an ideal natural harbor, no settlement developed here.
A great choice for a safe anchorage, letting the visitor enjoy the unspoiled nature and tranquility of the Aegean landscape.
Kyra Panagia has two natural harbours: Agios Petros in the southwest and Planitis in the northeast of the island.
In the bay of Agios Petros the ships of Byzantines rested their ships and one of them is still resting in the bottom of the bay. A shipwreck that is still unexplored by the archaeologists.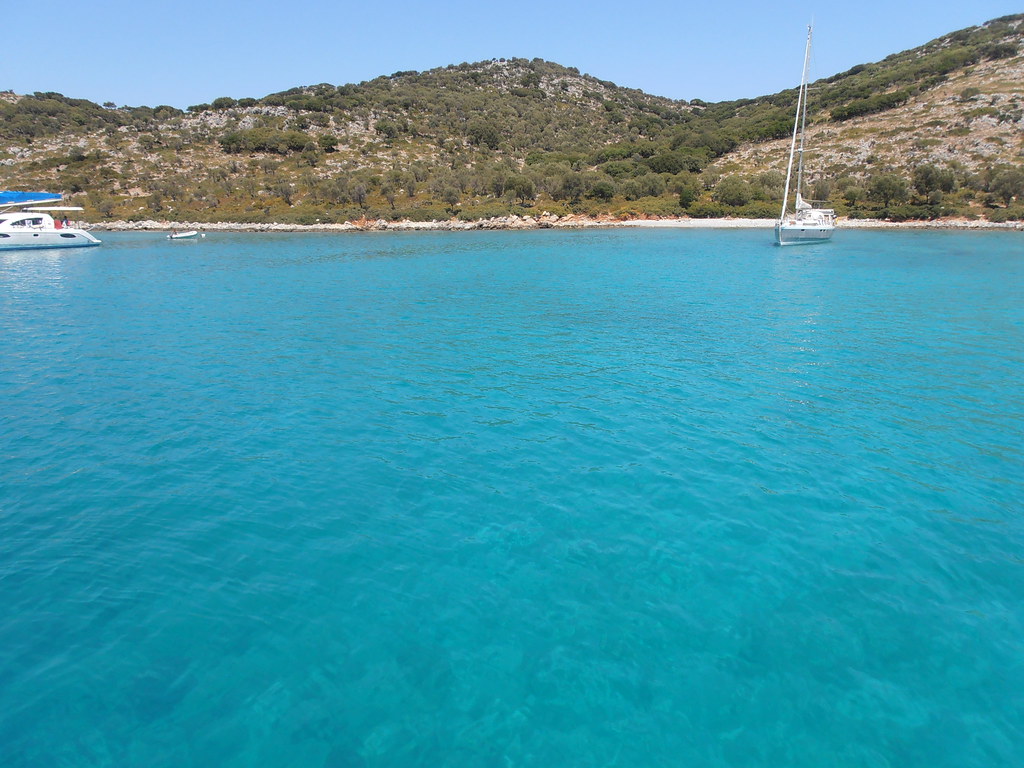 There is a monastery on the east side of the island, build in 1100 a.C. and restored in 2011, from which the island derives its name. It is inhabited by a single monk. The monastery overlooks the sea from above and it looks like a little fortress, reminiscent of the times where the pirates were contaminating the area.
Its natural harbor is exposed to the weather conditions and boats can only approach it in good weather.
On days with good visibility, from high above the monastery, you could enjoy the view of the opposite little island Gioura and the islets Pappous and Grammeza in front of it and the more distant island Piperi.
If the weather is good, you can also see Psathoura emerging from the Aegean sea.
There are many springs on the island, that's why there is livestock here. The terrain of Kyra Panagia is mainly covered by oaks, macchia and phrygana.
Η Kyra Panagia was the center of the desert islands in antiquity, which were not as deserted as they are today. Remains of Neolithic settlements have been found on the island and thus Kyra Panagia is one of the Aegean islands that were settled from a very early age (around 6000 BC).
Αρχαία θραύσματα βρέθηκαν απέναντι από τη νησίδα Μέλισσα στον όρμο του Αγίου Πέτρου. Μια ολόκληρη αρχαία πόλη πιθανόν να ήταν εγκατεστημένη εδώ, όπως μαρτυρούν τα υπολείμματα τειχών που ανακαλύφθηκαν στην ακτή του όρμου. Το νησί κατοικήθηκε συνεχώς μέχρι την κλασσική εποχή, γνωστό όμως έγινε με τη διένεξη Αθηναίων και Φιλίππου. Από το 5ο π.Χ. αιώνα ανήκε στην Αθήνα. Το 351 π.Χ. ο πεπαρήθιος ληστής Σώστρατος το κατέλαβε και το έκανε ορμητηριό του. Λίγο πριν από το 346π.Χ. ο Φίλιππος κατέλαβε το νησί και εξεδίωξε τον Σώστρατο. Οι Αθηναίοι όμως, στους οποίους ανήκε το νησί, παραπονέθηκαν και ο Φίλιππος δέχτηκε να το δωρίσει σε αυτούς. Παρ'όλα αυτά οι Αθηναίοι δεν δέχτηκαν και τότε ο ρήτορας Ηγίσιππος εξεφώνησε τον λόγο του "Περί Αλοννήσου", από τον οποίο σώζονται αποσπάσματα μόνο.